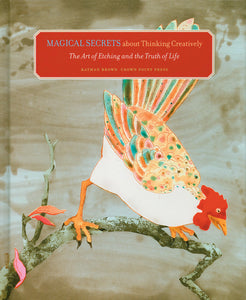 We found a few copies in our overstock!
Magical Secrets are ways of setting yourself up for thinking creatively, for a sudden understanding, something like a miracle. Kathan Brown learned them by helping artists of extraordinary acclaim make etchings. This book shows you how artists use the Magical Secrets in the Crown Point studio, and suggests ways to adapt their approaches to your own life. Live-action DVD included!

Published by Crown Point Press/Prestel Publishing, 2006. 120 pages, with over 35 full color illustrations.
"This book affords a rare glimpse into the creative thought processes of artists such as Chuck Close, John Cage, Peter Doig and Brown herself. The magical secretsof the title comprise 13 tips on how to think and work creatively. In each case, at least one artist is chosen to illustrate the point. The rich variety of tone and color of the selected artworks help to dispel the myth that etchings can only ever be scratchy black line drawings on white paper. Various intaglio techniques are described and there is an ample glossary. The accompanying DVD is a useful supplementary aid." Alan Smith, Printmaking Today, 2006