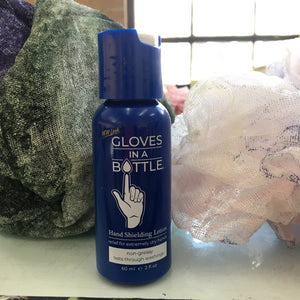 Gloves in a Bottle is a non-greasy, dermatologist-approved healing lotion for dry & irritated skin. Works wonders if you wash your hands frequently, since the not-toxic formulation helps retain your own natural moisture, and because it is not greasy, it is ideal for handling paper. Perfect for the studio, or at home. 

Printer approved! 
60 ml (2 oz) travel size


Gloves In A Bottle is 100% free from all parabens, phthalates, triclosan, sodium laurel sulfate (SLS), sodium laureth sulfate (SLES), formaldehyde, toluene, propylene glycol, salicylates, gluten, latex, dairy, wheat, soy, peas, corn, animal products, animal testing, added fragrance, colorants, peanuts, and all other nuts.