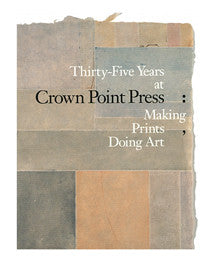 Crown Point Press is renowned for its use of the oldest, most traditional printmaking processes, etching and woodcut, in radically nontraditional ways. With painters, sculptors, and performance and conceptual artists-many of whom has never before made prints, Crown Point Press has produced works as varied as Tom Marioni's tracing of the sun's reflection on a copper plate and figurative images carved on woodblocks by traditional printmaking masters in Japan and China.
Crown Point Press has printed and published important Minimalist and Conceptual graphics as well as the significant prints of Richard Diebenkorn and Wayne Thiebaud. The Fine Arts Museums of San Francisco in 1991 brought the archive of Crown Point into its collection. Over 200 of these prints are illustrated in color in this book, which offers insight into the creative processes of the artists and candidly describes the development of the Press and the ways it helped transform the printmaking landscape of the twentieth century.

Essays by Karin Breuer, Ruth E. Fine & Steven A. Nash. Published by the Fine Arts Museums of San Francisco, University of California Press, 1997. 203 pages.